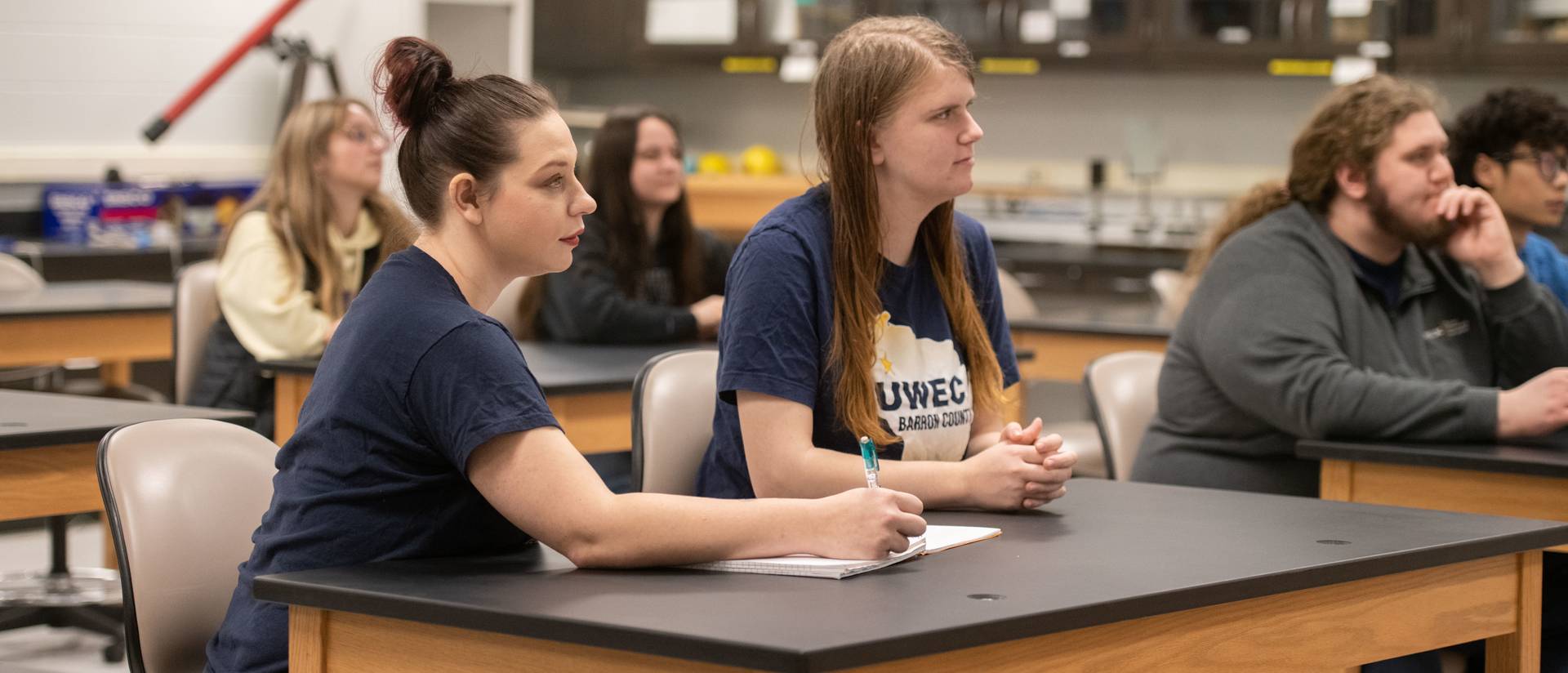 Admission guidelines and application process
UW-Eau Claire – Barron County offers open admission and is committed to providing access to quality higher education with a 99% acceptance rate. We begin accepting applications on August 1 for the next year's fall semester. Submit by February 1 for priority consideration. All applications received after August 1 will be considered on a space-available basis.
Minimum required units (17 total)
Units* identified below are the minimum required for admission consideration. If you have concerns about meeting the below units, contact Admissions.
Units | Subjects
4 English
3 Mathematics: 1 of algebra, 1 of geometry
3 Natural Science
3 Social Science/History
4 Electives: chosen from foreign language, fine arts, computer science and other academic areas
*A unit equals one year of high school study or equivalent.
How to apply
Please submit the following:
One of the following applications:

UW System application (recommended if you want to apply to multiple UW System schools)
Common App (available only for first-year students, not transfer students)

$25 application fee
Note: You will be able to indicate your need for a fee waiver on your application. If you have already submitted your application, please email admissions@uwec.edu to request a fee waiver and explain the reason for your need (e.g. eligible for free and reduced lunch, etc.).

Official high school transcript
Note: An unofficial initial high school transcript may be uploaded during the application process. An official final high school transcript will be required prior to enrollment.

Official ACT/SAT scores (for first-year students) - Submission of ACT/SAT scores is optional through spring 2025. Click here for more information about what it means to apply as test-optional.
Note: Not required for transfer students.

Official transcripts from each college or university you have attended
Note: If you're a military member, submit Joint Service Transcript or Transcript for Community College of the Air Force.
Official transcripts can be sent by your institution through a secured electronic delivery service or via US Postal to the address below:
UW-Eau Claire Admissions
105 Garfield Ave.
Eau Claire, WI 54701