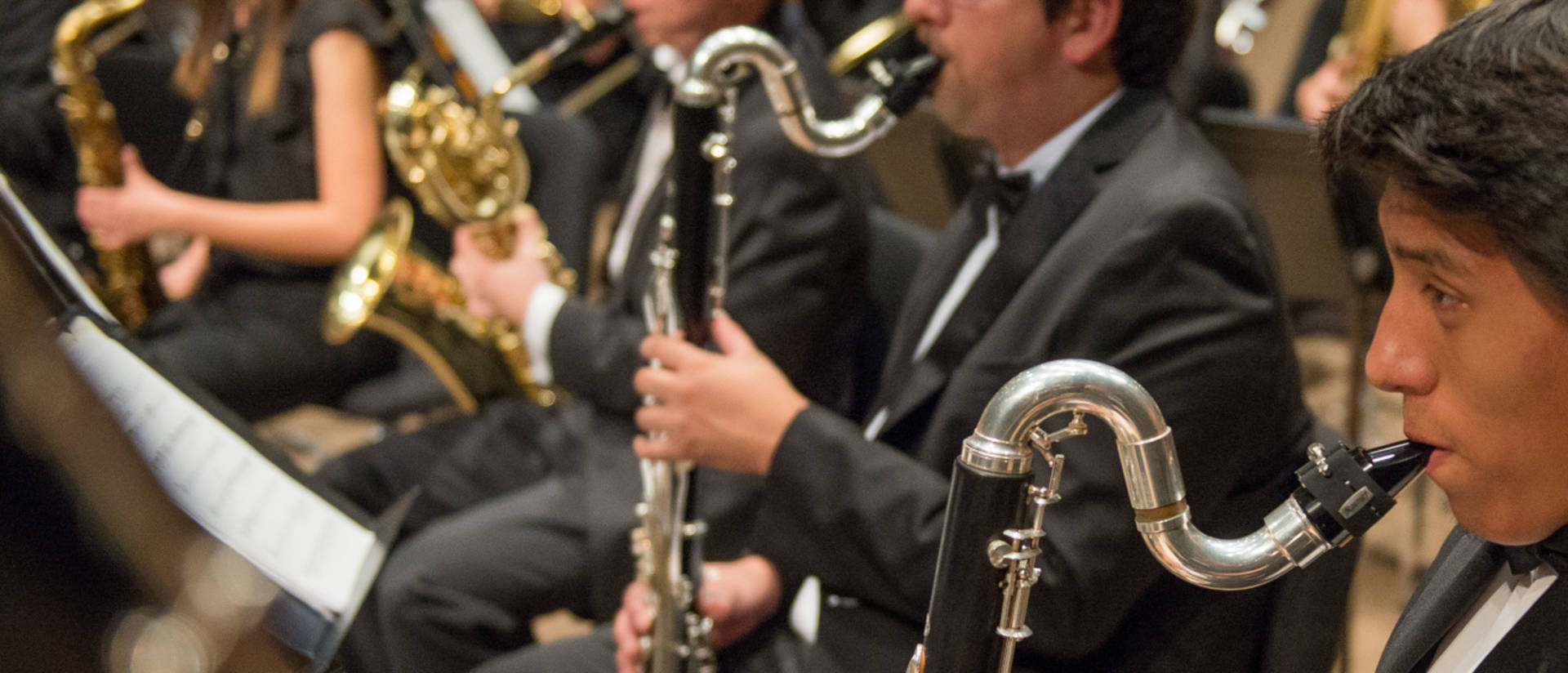 In addition to the performers listed below, UW-Barron County offers an exemplary music program, replete with a dynamic faculty who bring worldly experience into the classroom and concert hall.
Performance Ensembles
The major performing ensembles at UW-Eau Claire – Barron County are The Red Cedar Choir, Communiversity Band, Red Cedar Symphony Orchestra, The Dean's List, and Northwinds Brass Band. All of these groups take advantage of combining student performers with established community members, an enormous advantage for UW-Eau Claire – Barron County students. They are able to sing/play alongside professional and amateur musicians, and learn from the conductors and those performing with them — there is no better teaching tool available. All of these ensembles are recognized in the region for their excellence.
For information on joining any of the community music ensembles, visit https://uwec.ly/barronce
Northwinds Brass Band

Conducted by Ana Traicoff-Stratioti, Northwinds Brass Band was formed in 1986 and has been a mainstay of the local music community since 1989. The band plays music in the British Brass Band tradition and has performed concerts in numerous venues. The band plays two or more concerts a year at the University and in surrounding communities, and one concert in the Rice Lake City Park during the summer as part of the Music in the Park series.
The Red Cedar Choir
The Red Cedar Choir is a joint effort of the Music Department and surrounding communities, gives students directly out of high school the incredible chance to sing and be part of one of the best choirs in the area. The choir performs to sold-out houses in Rice Lake throughout the year, and is the cornerstone of the Holiday Festival. Beth Joosten serves as the conductor of the choir and Artistic Director of the Holiday Festival. The choir dates back to 1932 when it was associated with the Rice Lake Federated Music Club. The group is open to all student and community members through a voice test process.
Communiversity Band
A joint effort of the Music Department and the surrounding communities, Communiversity Band is comprised of both students and area musicians, giving students the same opportunity to perform with professional players as The Red Cedar Choir gives singers. The band performs at several concerts throughout the year and is conducted by Mike Joosten. This ensemble is open to any student or community member through audition on their instrument (prior work on the instrument is expected).